The cabinet is constructed with 1⁄4" lead and 11 GA CRS bonded together to make a shielded enclosure that will maintain shielding specifications.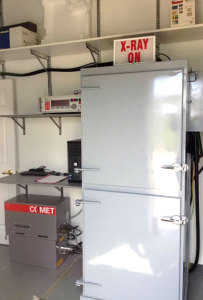 The cabinet is provided with a tube head clamp for a 160 Comet x-ray tube head. The cabinet will be shielded and tested for 160 kV @ 10 mA. The cabinet is provided with 2 cable ports, an access door with door latch and CRDH switches, a hinged maintenance port. The cabinet is supplied with 4 leveling legs capable of supporting the load. The cabinet will be painted with silver gray two-part epoxy paint. The cabinet will be palletized for shipment. The complete cabinet is estimated to weigh approximately 1,000 pounds.
Cabinet can be painted to your liking.
Dimensions:  Exterior 30.5" Wide x 32" Deep x 77" High
In height, the cabinet has 4" legs (leveling type) and 73" of enclosure totaling 77".
Dimensions:  Interior 29" Wide x 30" Deep x 70" High
S/H to be determined.
Delivery:  Approximately 8 weeks ARO
Terms:  50% deposit along with a purchase order; remainder due upon receipt of product (acceptance).
FOR MORE INFORMATION/PRICING, PLEASE CONTACT US @
DOUG BOOKHOLT: P: 201.394.2449 (or)
E: doug@bookholtxray.com
MICHELE MORGAN: P: 973.309.2129 (or)
E: michele@bookholtxray.com
KYLE KUHRT: P: 973.362.6883 (or)
E: kyle@bookholtxray.com